Our Company
---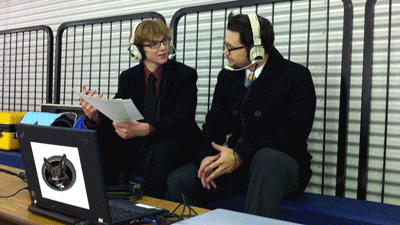 Our Company was founded in San Jose, California by Andy Dickerson in June 2011. We seek to provide Bay Area clients with a wide array of media solutions in four major areas of production: Sports Production, Corporate Services, Wedding Videography and Website Design. Additionally, we are proud to partner with an increasingly large number of youth and collegiate sports organizations to provide live and on-demand online streaming services. New for 2017-18, all live and on-demand streaming services will be offered through our new "Black Dog Hockey" brand. Please visit
BDEHockey.com
for more information.
The 2017-18 season marks our seventh year in operation! Over the past 6 years, our company has had the privilege of covering some fantastic events and working with some amazing individuals. In the world of sports, we have produced over 250 Scouting Reels for aspiring athletes. We have been the official video providers of Solar4America Ice at San Jose (formerly Sharks Ice at San Jose) since our founding in 2011, provide exclusive streaming coverage of both major high school hockey leagues in Southern California (the Anaheim Ducks and Los Angeles Kings High School Hockey Leagues) and in Fall 2016 secured exclusive coverage of the largest junior hockey organization in the Western United States: the 27-team Western States Hockey League. We have also covered a number of prestigious events, including the 2014 and 2017 ACHA Men's D2 West Regional Playoffs, the 2015 Pacific District Championships, the 2015 California vs. Carolina League All-Star Game and multiple California Amateur Hockey Association State Championships (7 events in 5 years). In the corporate world, we have provided video services for clients such as Zeno Group, JAI and Borelli Motor Sports and covered the annual Augmented World Expo in Santa Clara, CA from 2013 to 2016.
Our company is the embodiment of our founder's shared love of competitive sports and multimedia production. The company has developed a strong relationship with SJSU's Television, Radio, Film, and Theatre (TRFT) Department and gives back to the collegiate community by providing an environment for the school's talented students to gain experience working in a professional setting on the varied projects the company is privileged to tackle. Black Dog Enterprises strives to provide its clients with the highest possible level of service and hopes to be able to serve you in the near future!